The Dark Queen of your masochistic fantasies…… prepare to submit your body, mind, and soul!!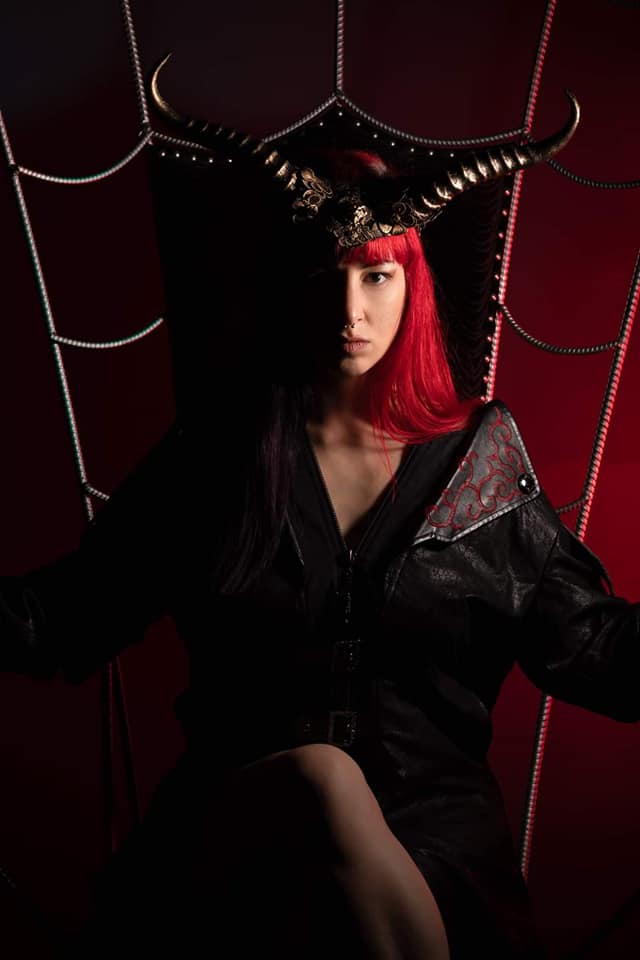 I am a multi-award winning, internationally renowned GLOBAL GODDESS. Based in LAS VEGAS and NEW ENGLAND (Boston, Providence, Manchester) when home, My personal Dungeon is located in PROVIDENCE. (Check My travel schedule for travel details.)
My Birthday is October 31st – making Me a Halloween baby, and also a proud Scorpio.
I've been in the industry since 1999. I started Pro Domming in 2004 in Boston. Around this time, I also started attending Boston Footnight – who was then run by Princess Kali, whom I consider My first mentor – and is now run by Me!
When we are not in the middle of a global pandemic, I am on the road & in the air every month for modeling gigs, acting work, private sessions, events/conventions/expo's, and shows with My metal band. I love to visit new places and love being flown out on location once some rapport has been established. Always keep an eye on My travel schedule – If I am traveling, it means I'm accepting appointments in those locations.
My style of Domination is cruel and severe. I love to laugh as I torment you.   I don't enjoy sensual Domination (with the exception of some female bottoms) and My sessions will never include body worship.
you can expect to be punished severely – only extreme masochists need apply for sessions.
If you are interested in serving Me as a domestic/service slave, I may have use for you. Expect to follow strict protocols. Only true service submissives should apply to be My personal slaves.
Protocol:
If you are serving Me on a regular basis, more in-depth protocols will be discussed, however – here are a few basics to start with.
you may address Me as "Queen", "Your Highness", "Your Majesty", and "Goddess" only.
you will speak only when spoken to
your eyes will remain on the floor at all times, unless expressly given permission otherwise
If you are in long-term service to Me, you will not serve others without My permission
you will maintain proper hygiene and will not serve Me if you have not recently bathed, and groomed yourself
you will observe My preferences in regards to clothing:
My favorite colors are black, red, and royal purple. These are colors you may wear when meeting with Me.
Colors I hate are: orange, yellow, magenta, lime green – and anything neon.  Do not ever wear these colors in My presence or you will be punished, or instantly dismissed from My presence.
Do not buy Me anything in these colors unless specifically told otherwise. If you would like to purchase wearables for Me, stick to black, red, and royal purple. Sometimes, I like pastel pink, white, gold, and silver, too – but best to ask before if you aren't sure.
Kink/session interests: (Realtime and Virtual)
-Ball busting/kicking — #1!!
-Corporal Punishment
-Whipping/Caning
-Face slapping
-Scratching
-Foot Domination
-Trampling
-Boot Cleaning
-CBT
-Public Play/Exhibitionism
-Hypnosis
-Mindfucking / reprogramming
–Sensory deprivation
-Being worshipped as a Deity
-Human Furniture
-SPH
-Cuckolding
-Keyholding/Chastity
-Financial Domination play
-Humiliation of all kinds
-Roleplay of all kinds
-Encagement
-Tickling/tickle torture
-Sissification
-Leash/Collar
-Maid Service
-Golden
YOU WILL NOT EXPECT:
– ANY TYPE OF BODY WORSHIP. This is at MY DISCRETION ONLY. DO NOT ASK FOR IT. THIS IS A PRIVILEGE FOR THE BEST PERFORMING or MOST ATTRACTIVE SLAVES ONLY.
– Any type of "job" – Enough said.
– Pegging – Only the best boys earn this level of intimacy.
– Forced bi R/T — this is incredibly difficult to set up & not worth My time.
Hard Limits:
– Medical
– Body Worship
– Scat
If you care to know, here are some of My Vanilla interests:

Travel – I want to see as much of the world as I possibly can. I particularly enjoy traveling in, and exploring Europe.
Music – Music is an important part of My life. I love heavy metal of course, but I also enjoy dance music, classical, some hip hop, and anything else that makes Me feel good.
Hiking – I love nature and being in it. I love to travel the world and enjoy nature's beauty wherever I possibly can.
Fine Dining – Self explanatory. Being of Italian descent I very much enjoy being wined and dined. If you want to quickly get into My good graces, take Me out for an incredible culinary experience – or, if you're got the talent, cook for Me.
Teaching – I have taught classes at industry events since 2018. I feel that education and sharing knowledge is very important – as is self-improvement. I like to leave My subjects better off than when I found them, no matter if W/we part ways or not.
Have you fully read this page? If so, you may humbly approach ….